The artificial intelligence at the service of your Business.
If you need realistic images to effectively promote your products on your website, blog, or social media profiles, this service is perfect for you.
Choose the plan that suits your needs and access our revolutionary AI-Imaging service.
Images created in a few minutes
Select the style and describe the necessary components to generate your images thanks to artificial intelligence
WhatsApp notifications for every generated image
Conveniently receive a WhatsApp notification when your images are ready for download or for sharing on your social media
Catch the attention of your audience with stunning images.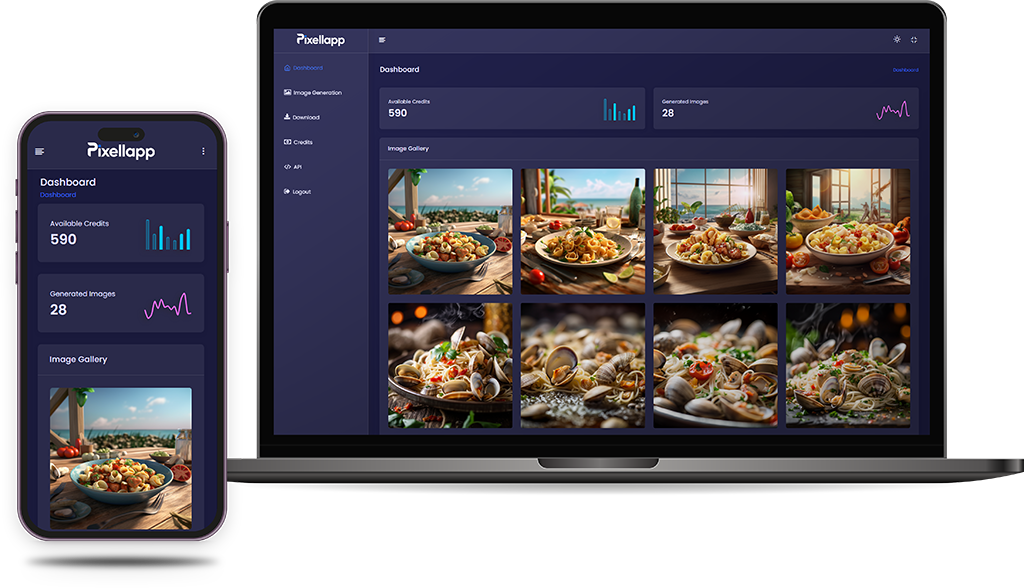 With Pixellapp AI, you get stunning images in just a few clicks, quickly and without spending a fortune on professional graphic designers and photographers.
Create unique and customized images for your brand and attract the attention of your online audience.
Generate images for recipes, advertising, blogs without organizational complexities.
Elevate your social media presence with images that won't go unnoticed.
Discover how unique images can accelerate your business.
Choose the style you prefer
These are not real photographs, they were produced with Pixellapp AI
We are a young and dynamic software company driven by a passion for innovation. Our mission is to revolutionize the advertising's world by harnessing the power of artificial intelligence (AI) to create stunning images and graphics.
We are the decisive factor behind your success
At Pixellapp, we believe that visuals play a vital role in the success of any business. We understand the importance of captivating designs and compelling imagery in making a lasting impression on your target audience. With this in mind, we have developed a groundbreaking AI-powered platform that empowers businesses to effortlessly create high-quality images for their marketing and branding needs.